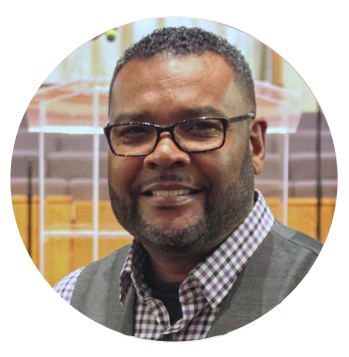 Lamar James was born in Aberdeen, Mississippi, to Oscar and Erma James Sr. The entire James Family relocated to Grand Rapids MI in 1962 and soon after joined New Hope Baptist Church under the Pastoral leadership of the late Rev. John V. Williams. Lamar's family was very involved in the music ministry of New Hope. At age 11, Lamar began to develop an ear for music and began taking organ lessons under the teaching of the late Mrs. Ruth Scott. Lamar quickly became one of Mrs. Scott's favorite students.
After graduating from Ottawa Hills High School in 1978, Lamar began a career with Steelcase, Inc., where he currently works as a Project Manager for Field Quality Services. In 1996 Lamar was appointed as Director of Music. Lamar oversees a very cohesive Music Ministry that includes; New Hope's Mass Choir (Vessels of Praise), two Vocal Ensemble's (Judah) and Next Generation of Praise (NGP). Each of these groups is blessed with gifted and committed leaders that assist Lamar in bringing our New Hope Church family spirit-filled worship and praise music each Sunday.
Lamar and his wife Sylvia reside in Kentwood, MI. They are proud parents of two adult sons, Orlando and Courtney and have five grandchildren, Aniyah, Braylon, Carter, Madison and Kameron. Sylvia is Lamar's strongest supporter and is also very active in the ministries of the church. Lamar enjoys golfing, bowling, listening to music and spending time with family and friends.