"Only be careful, and watch yourselves closely so that you do not forget the things your eyes have seen or let them slip from your heart as long as you live. Teach them to your children and to their children after them." -Deuteronomy 4:9
When you were a child, would you have rather sat with your parents during morning worship, or would you have preferred to be in an environment prepared just for you?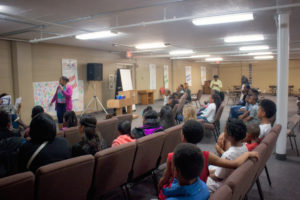 Providing an interactive learning experience while teaching Biblical foundation and practical application, Sunday Saints is New Hope's answer to the above.   Age-appropriate classes meet during Sunday morning worship in the lower level.
Serving children Kindergarten through age 14, Sunday Saints:
Intentionally provides an opportunity for children to experience God on their level
Provides a secure, safe, educational environment where children can grow spiritually
Provides Biblical-based, well-rounded lessons in an environment that is welcoming of diverse lifestyles, beliefs, and values
Supports staff and students with inspirational learning resources
Develops leaders with a strong spiritual base
Ready to use your gifts in this ministry?
We believe our purpose is not to tell children what to do, but help them get where they want to be. Therefore, Sunday Saints workers must have hearts to serve kids.  If Sunday Saints is a place you would like to get involved, click here or call (616) 452-4278 to contact the church office.