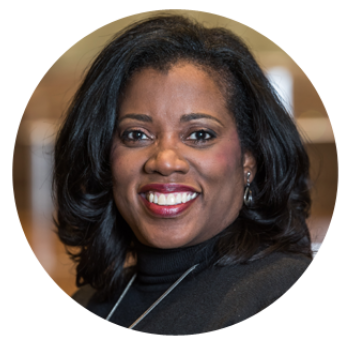 Renee was born in Jackson, Tn.  She graduated from Morris Brown College  in Atlanta, Ga., with a B. A. Degree in Mass Communications- News Editorial (Magna Cum Laude). Renee spent most of her career in journalism, having worked her way up from a Criminal Court Reporter in Nashville, Tn. to Publisher of The Saginaw News and then Special Projects Director at The Grand Rapids Press.
In addition to her journalism skills, Renee has earned her Lean Management certification from the University of Michigan, as well as her certification as a Credit Union Executive at the University of Wisconsin- Madison. During her career, she has received several awards including an honorary Ph.D. in Public Service from Central Michigan University.
Renee has spent her life serving in various ministries in church. She is a descendant of Bishop Isaac Lane, the founder of the Christian Methodist Episcopal Church and St. Paul C.M. E. Church, in Jackson.
"It was not optional, if we wanted to participate in church.  My brother and I understood that it was expected," she said.  Her brother, Harrold, is now associate pastor of Lake Providence Baptist Church in Nashville.
"I am so thankful for my church training. Through my various seasons of life, it has been my root that kept me centered."
For years, Renee was very involved in Christian Education at Bethel A.M.E. Church in Saginaw. She was responsible for having re-launched the church's Children's Theatre Program.  She continued to work in this arena when she united with Resurrection Fellowship in Grand Rapids before joining New Hope.
In addition to volunteering in the church, Renee is also quite involved in the community. She served on the Board of Directors of the Saginaw County Community Foundation and the Saginaw County Chamber of Commerce.  She also served on the Board at Mel Trotter Christian Ministries and the Grand Rapids Community Foundation Distribution Committee.
Renee joined the New Hope Administrative team in September 2015. "This positon is a perfect opportunity for me to use my professional experience to help build the church. I am active in Pathways to Education and the Celebration Committee ministries."
She said fully agreeing with "Aspire" author Kevin Hall. "Your gifts are not about YOU. Leadership is not about YOU. Your purpose is not about YOU. A life of significance is about serving those who need your gifts, your leadership, and your purpose. It is my pleasure to be a Servant Leader at New Hope."
Renee is the mother of two adult children.  She enjoys travelling, listening to music and spending time with family and friends.