The following job opportunities are available with Kent County.  To apply, visit www.accesskent.com/jobs
Parks Department 1700 Butterworth Drive SW Grand Rapids
Temporary

 

–

 

$10.55 hourly
Category: Sanitation / Parks and Recreation / Miscellaneous / Parks / Natural Resources / Building & Grounds Cleaning and Maintenance
Kent County is accepting applications for seasonal employees for various County Parks and the Kaufman Golf Course. Successful candidates will provide superior customer 
service to patrons and perform tasks required for the care, cleaning and general maintenance for these various sites. Duties may include cleaning and sanitizing restrooms, buildings and other public areas; operating lawn care equipment; and removing trash, leaves and other objects from grounds and landscape features. Other responsibilities may include collecting payments for admissions, the sale of merchandise, concessions and other fees. Will perform other duties as assigned. Must be able to work evenings, weekends and…
Sheriff Department 701 Ball Avenue NE Grand Rapids
Full-time

 

–

 

$24.66 hourly
Category: Corrections / Law Enforcement / Security / Criminology
Applicants must complete a Kent County Application for Employment with a cover letter and resume in order to be considered.   Prior to completing the application, please 
read the following information carefully: Examination through Empco, Inc : A written exam must be completed successfully in order to be considered for an interview. To register for the written examination or for more information on requirements, test dates, test locations and testing fee, visit the Empco, Inc. website at http://www.empco.net/ . Empco testing must be completed and application materials must be received no later than June 1, 2018. Failure to complete Empco testing and submit all application materials will…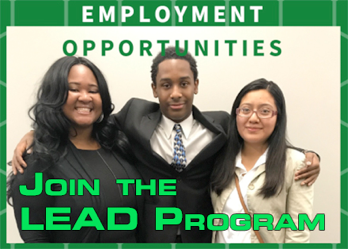 Grand Rapids teens and young adults looking for an advantage over the competition can build job skills through the Leadership and Employment, Achievement and Direction (LEAD) program. Managed by Our Community's Children, LEAD provides unique training in civic engagement, leadership and employment skills for Grand Rapids residents ages 15 to 24 and those attending college in the greater Grand Rapids area.
Registration is now open for this year's two-week LEAD cohort workshops – set for May 1-15 and June 11-26 at Grand Rapids City Hall, 300 Monroe Ave. NW. Each cohort runs 8:30 a.m. to 4 p.m. Monday through Friday and includes sessions on financial literacy, dressing for success, mock interviews and   resume and cover letter writing along with field trips to local businesses and colleges.
Additional information can be found HERE.