The history of New Hope Baptist Church began August, 1934, when a group of Grand Rapidians formed a prayer band and met in each other's homes and at a location on Market street. The prayer band was formerly organized into a congregation by the late Rev. William G. Dinkins, Moderator of the Western District Association and the late Rev. C. Crawford, District Missionary. Some of those charter members were Mr. and Mrs. George and Carrie Walker, Mr. and Mrs. Jesse and Audrey Babers, Mr. and Mrs. Frank and Mary Harris, Deacon Jesse Johnson and his wife Effie, Rev. William Robinson, and Mr. and Mrs. Arthur and Clara Cleveland.
Former pastors of New Hope were Rev. Joshua Haynes, Rev. William L. Hunt, Rev. Benjamin D. Robinson, Rev. R. C. Morris, Rev. Allen D. Duncan, Rev. John V. Williams, Rev. Donnell Smith, and Rev. Derrick Lewis Noble. Pastors who served as interim leaders were Rev. Marvin Williams, Rev. Roosevelt Hunter and Rev. Dallas Lenear. The founders were Jesse Babers, Mrs. Audrey Babers, Mr. Arthur and Clara Cleveland, Rev. Henry and Mrs. Stevenson, Rev. William and Effie Robinson, Mrs. Bertha Mitchell, Mother Willie Babers Riley, and George Barnwell.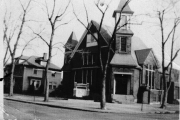 The first service was held at 321 Grandville in August of 1934. Construction was completed on a new church home at 25 Finney Avenue and the church moved on December 5, 1937. On April 19, 1964, the church moved to 882 Caulfield and on June 19, 1983, New Hope was blessed with a new expansive location that is currently at 130 Delaware, SW. The church has grown from approximately 25 members in 1934 to over 800 active members in 2008.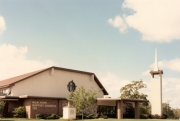 Over the past seven decades New Hope Baptist Church has evolved from "A People Commanded by God, Commanding People to God" to a church offering "New Day, New Life, New Hope" to currently, "A Place Where Heaven Visits Earth."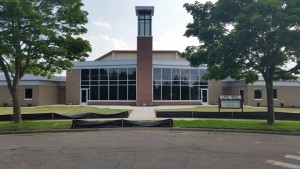 NHBC Vision and Mission
"A Place Where Heaven Visits Earth"
Mission
The New Hope Baptist Church is a worshipping community committed to educating, equipping and empowering believers for Christian living in the 21st Century.
Welcome to New Hope Baptist Church, a place where Heaven visits Earth! We do not make this claim to be arrogant, but rather we believe that it is who God has called us to be. This website is designed to introduce you to what God has done in our history, what He is doing through our current ministry activity and what we believe He is leading us to become and to do in the future.
We exist not for ourselves, but as an extension of God; we are now the physical presence of Jesus Christ in the world. We define ourselves by our tireless and faithful service to the needs of humanity. Educating, Equipping, and Empowering are the three ministry imperatives that drive all of our activity. 
Please tour these pages to find out more about us. More importantly, we invite you to visit us during our Sunday morning worship service at 10:15 am. We also offer a unique worship experience designed specifically for children in grades k-5 which meets Sundays at 10:15 am. We also provide Sunday school classes for all ages at 9:00 am. On Wednesdays, join us at 12:00 noon or 6:30 pm for Prayer and Bible Study. Wednesday evening also features our 1st S.T.R.I.N.G. Children & Youth Ministry beginning at 6:30pm. We look forward to seeing you.
May God richly bless you!
Yours in Christ,
Rev. Howard C. Earle, Jr., D.Min.
Senior Pastor